This is only my second year attending SXSW, and it went much smoother than my first. Here is a quick look at the social strategy that I put together on the back of a cross promotional partnership with an iPhone app that I really enjoyed.
To promote our attendance beforehand we built out the page http://kcrw.com/sxsw. It was very similar to last year's page, but this year we included a soundcloud hosted podcast that my dear Rachel Reynolds and Jason Bentley put together to help our audience get to know the bands on our showcase. They pulled this together super fast – as a favor to me!!! Thanks y'all!! I'm really excited to get into more digestible media treats for our online audience.
We also included embedded mp3 tracks throughout our Schedule of events – using a flash driven audio player, so that our page visitors could sample a song from each artist! There some really great tunes there, you should go check them out.
Last year, with my laptop in my hands at all times, I was uploading photos and status updates to several accounts throughout every moment of everyday. This year – KCRW partnered up with Instagram and used it exclusively for instantaneous (and fun w/ filters) photo sharing. I set the account up on my phone to push these images directly from the Instagram app into the KCRW Flickr & Twitter accounts.
Meanwhile, Instagram hooked us up as a featured user while we were in Texas, and I could really feel the love. I ended up turning off my iPhone push notifications after a while b/c I was getting blown up with hearts and comments on the photos that we were gathering!! Here is the simple graphic that we pulled together for the featured user splash.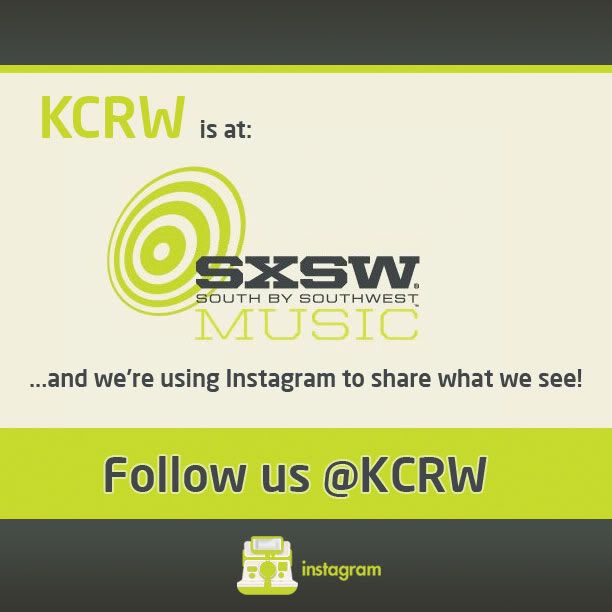 While I was wary that our friends and fans may grow weary of the kitschy application of filtered photos – we mostly received tons of praise for our efforts! Not only were we able to build a consistent story on Twitter, Facebook & Flickr (where we are most active), we were also able to quickly tap into two brand new communities by utilizing the Instagram community and the Tumblr community as platforms from which to share our media. Here's a look at some of my favorite music photos.
The Tumblr site also came packing its own community. As a stand alone site — http://kcrwatsxsw.tumblr.com — the template that we chose was not the right one. Live and learn. I did like it though for its grid format and visual quality – including the ability to scroll over for more in depth text look at what you were seeing! I wanted this Tumblr blog to follow our movement on the ground at SXSW in a very visual way.
One thing that we didn't want w/ the tumblr blog though – was to miss out on potential traffic to KCRW.com – so we made the decision to pair down the theme and frame it into a page on our site. We were already pushing traffic from On-Air promo and the Social nets to http://kcrw.com/sxsw – so we thought we could push those eyes on over one more page by creating a "Follow SXSW on Tumblr" button. However graphically, it didn't stand out enough. Our traffic to this page was relatively un-impressive, so we'll keep that in mind for next time.
I will gladly use something like Tumblr again next year in this similar fashion – but maybe will try to find a better way to take advantage of both its built in community as well as the ability to feed that info back into KCRW.com for the traffic that we get there. Rather than framing the Tumblr site into the KCRW.com property, I'd love to find a nice way to feed that data into the page so that it can sit pretty there!
Meanwhile – I found a great Tumblr plugin for WordPress, so I gladly hooked that up on the KCRW Music Blog on day one of SXSW Music  – as a priority in the top right navigation column of the site, and I'm sure this helped to drive traffic back to tumblr, but unfortunately not to KCRW.com.
More than ever with SXSW this year, I was happy to have set up a cross platform flow of information that was instantaneously updated! We hit the internet hard with minimal effort, and I'm feel really good about the overall strategy.