It's happening. Twitter has been redesigned… and I had no idea.
We did get an Twitter Insider's tip from way back that mentioned that hashtags were going to be rebranded by Twitter, but I shrugged it off. How could Twitter rebrand the hashtag and make it any more important than it already is….? I get it now – they built their navigation around it and labeled it "DISCOVER."
They stole my heart with the #Space theme of this video…..

We'll see how folks adopt. My initial reaction is positive and immediately I'm intrigued by the new views of conversations as well as the built-in "embed" option. Though, it's a little lackluster once actually embedded: **EDIT – magically – it appears in a much better format three days after initial publish of this post – clearly an improvement made since its initial release. 
@BetsyKCRW rad! appreciate it!

— Giraffage (@giraffage) December8, 2011
I wonder – perhaps the redesign might lend itself to a more intuitive use of twitter for those that are still coming up to me and saying "I just don't GET Twitter! What is it all about? What is this HASHTAG thing?"
Will the redesign enable the twitter-illiterate to become power users, like the twitter-elite?
In addition to the redesign, Twitter has also announced brand pages. They have launch partners that you can check out: American Express & Coca-Cola's pages. GOD, I love Coca-Cola, and its social presence!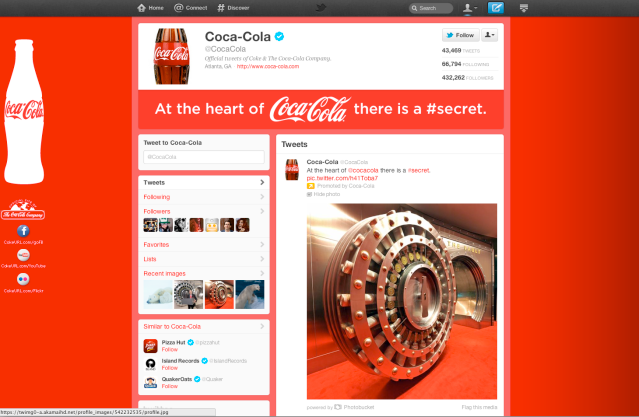 Anyway, Brand pages will obviously affect strategy for the KCRW accounts as well as advising the staff here for other program accounts. I've sent an email to our twitter contact – who we JUST had a conference call with THIS WEEK to talk strategy specifically around music. She failed to mention this big announcement. Interesting…