The Facebook 20% text rule for ads was totally killin my "cute graphics" game for blog posts.
You've likely only run into this area if you are an avid Post booster. I serially toss about $5 onto each status update that points back to a client's property – to help raise visibility. I'll toss more on if it gets exceptional engagement.
But recently, my posts stopped being approved due to failing the 20% text rule. It seemed that just about any amount of text would trigger the problem, so I had to get to the bottom of a solution.
So here is what you need to get around it.
Visit this page and upload your 400×209 link thumbnail image before you post it: https://www.facebook.com/ads/tools/text_overlay
Click on any box that contains text or partial text. If the percentage tops 20, then it's too much and you'll have to go back to your edit screen and minimize your text!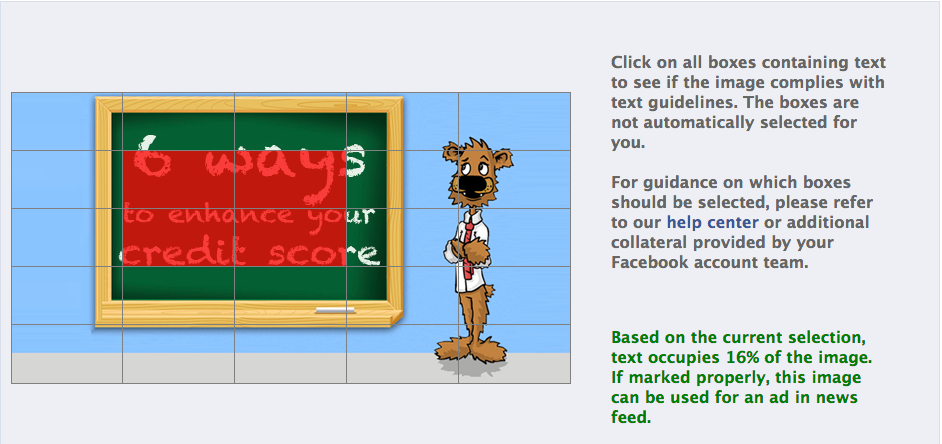 For a shortcut – I created this blank png to open up for initially creating my graphics. It's at the 560×292 or 400×209 dimensions that Facebook suggests for link post thumbnails.
This way, I always have the dimensions at hand, and the grid is easy to overlay so I can keep an eye on my font size and text placement.
Thanks for keeping us jumping through hoops Facebook! 🙂 Sometimes I can't help but wonder if you are all sitting back having a good laugh at us marketers!
We had a little discussion about this over on the Facebook Page Managers Support Group today too. Please join us there if you are a page manager that is looking for a group to help you out in real time with the challenges that we face in daily page management!! It's a great group. https://www.facebook.com/groups/448536578514849/