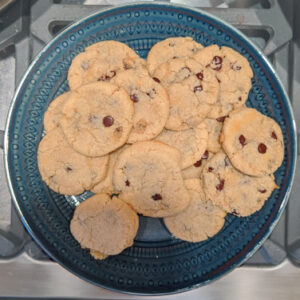 Round here we have always loved a batch of Chocolate Chip Cookies, and so when the no sugar diet hit they were sorely missed.
But no fear, the best almond flour sugar free chocolate chip cookie recipe has been discovered, tweaked and perfected!
I like to give these a little spatula smash as soon as they come out of the oven for the perfect cookie shape!
Make sure to let them cool before eating, otherwise tooooo crumbly.
Print
Sugar Free Almond Flour Chocolate Chip Cookies
Gluten and Grain Free, Sugar Free
Materials
10 TBSP Butter I use KerryGold Salted Irish Butter
1 Egg use a NeatEgg if you want to be Vegan
2 TSP Vanilla Extract
2 ¾ cups Fine Blankched Almond Flour
½ TSP Baking Powder
½ TSP Kosher Salt
Instructions
Set out your butter to soften

Preheat Oven to 350°

Combine 10 TBSP Softened Butter with ¾ cup Golden Monkfruit Sugar & ¼ cup Classic Monkfruit Sugar in your mixer.

Add one egg and 2 TSP Vanilla Extract

Blend in 2 ¾ Cup Almond Flour, ½ TSP Baking Soda and ½ TSP Salt

Keep the speed low and add the flour mixture until a dough forms, Scrape sides down and give it another few seconds in the mixer

Fold in ¾ Cup Chocolate Chips

Line your baking sheet with parchment paper. I like to scoop out a little over a tablespoon per cookie and roll into a nice ball .Give them a little room to spread on the parchment paper.

10 minutes at 350° should get the bottom edge a nice crispy golden. Pull out the pan and use your greasy spatula to give the tops a little smack for that perfect cookie shape. Let them cool completely before serving.