It's been quite the ride for me these past few years. I was suffering the side effects of a mystery illness when my Mom was diagnosed with Endometrial Cancer. I soon received my own advanced endometriosis diagnosis, underwent surgery, got married, got IVF pregnant, had a baby girl, nursed her in NC for a few months while playing nurse to my dying mom, moved back to LA after losing her, only to receive my own cancer diagnosis. I've since been in treatment for over a year and thank GOD for clear scans and a new lease on life.
Now, what will I do with this life!?
In my darkest moments I made lists. Lists of dreams that mattered, lists of people that I loved and wanted to live for, aspects of my character that I wanted to develop further… lists of attempts at actual living should I be given the opportunity by fate to continue doing so.
When we attended my mom's viewing, the family stood by her open casket, and "received" passing friends and family that had come to pay their respects. My introverted tendencies were amok (and my protector tendencies even more so, holding my baby as Jeff who is far more introverted than I stood by my side.) Through that blur of grief and social anxiety, I saw so many lives that my mom had touched. She had a way of making people feel special, she was a giver to the nth degree. It was an inspirational moment.
More recently, through facing down my own mortality, it helped me to realize that I have been waiting around to become the generous altruistic person that I've always assumed I would be one day. I can't explain what I was waiting for, but I realized that the time is obviously now.
Then Miry's List suddenly appeared in my world.
My mom was passionate about helping children from broken homes find a place in the world and so many of those children and their families had been touched by her life's work. I don't know if Syrian Refugees homing in the US is my thing like my mom's work was her thing, but it's definitely something that feels like a valid pursuit and it is something that I am choosing to give my time and effort to now.
And now, I'm also asking you if it can be your moment of giving?
The organization is led by a go-getter Mom that I can really relate to. She saw a need back in 2016 and this lovely organization has grown under her guidance since. I'm super into what they are doing. Our previous administration had really closed the gates to Syrian Refugees, minimizing the number of families that would find refuge on our soil. This looks to be changing in the future and so the needs for resettling families will be greater than ever. Even so, there are 155 new Syrian Refugee families arriving in LA right now that need help getting settled between now and Christmas.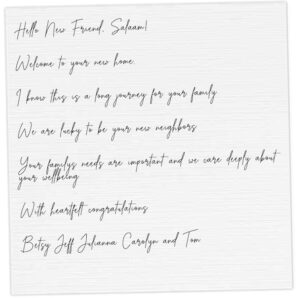 Join me in helping out.
We're working on a number of ways that you can do that. Please email me if you want to do more than simply donate.
For now, consider a dollar donation at give.miryslist.org/betsy so that I can flex my fundraising muscle and prove to the organization that I am a valuable new member of their fundraising arm.
So you know: Miry's List support expenses are about 19% of donations. For every dollar we give in donations, $0.81 goes directly to furthering the mission and helping the families and individuals that Miry's List serves. About $0.19 goes to other administrative items, like fundraising and insurance for staff. (and fyi the staff is made up mainly of Refugees that passed through as beneficiaries of the program.)
Thanks for considering this avenue right now in this season of giving… What could be better than receiving a warm fuzzy for extending a warm welcome to these families that have worked so hard and been through such trauma to land here in a new foreign place.
Let's welcome them with love.
Thank you for your consideration,
Betsy
Below I have linked to the giving site at give.miryslist.org/betsy
You have two options below. JOIN TEAM means that you want to create your own page, set your own fundraising goal and reach out to YOUR network with your own fundraising page link as a member of my fundraising team. Feel free to do that if you want to, but it's not necessary. You are more than welcome to share my cause with your network though. You do you! I love ya.
*Easy (preferred) option: DONATE means that you want to simply give some dollars to Miry's List in my name. I recommend a monthly donation as that continued support that can be relied upon means the most to organizations like Miry's List!
I started with a $109.50/month donation. But I give $5/month to plenty of other organizations that I want to support without making it a major giving effort.